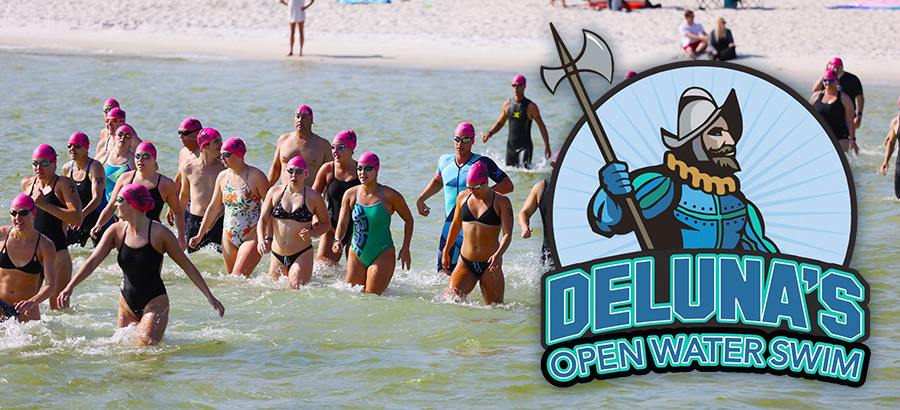 Deluna's Open Water Swim 2023
Friday, April 14, 2023
Join us on beautiful Pensacola Beach for the 4th annual DeLuna's Open Water Swim! Pick the .6, 1.2, or 2.4 miles swim to challenge your skill and speed. Swim in clean protected waters in the Santa Rosa Sound.
As legend has it…. Don Tristan de Luna, a Spanish conquistador of the 16th century who led an ill-fated expedition to the Pensacola area in 1559, is credited as America's first settlement. Pensacola is rich in history and sports. A scroll of de Luna's was recently discovered in the sand of Pensacola Beach outlining a competitive open water swim they were planning. Unfortunately, a hurricane changed the course of Pensacola's history, wiping out the settlement, thus never allowing the swim to take place. Our event is an effort to continue what de Luna started. (some facts stated above are fictional)
This race is a stop on the Speedo SALT Series, hosted by Salty Sports Society.
Friday, April 14, 2023
5 pm – 7 pm – athlete check-in
Pensacola Beach Pavilion (Gulf Side)
Check-in is part of the Pensacola Beach Firefighters Challenge check-in party.
Saturday, April 15, 2023
6:30 am to 7:30 am – Packet pick-up at Flounder's Chowder House
7:30 am – Swimmer Safety Meeting and Swimmer Check-In (Mandatory)
Every swimmer must check in with the event starter prior to the race
7:00 am – Water opens for warm-up Open Water Swim
8:00 am – 2.4 Mile Swim Begins
8:10 am – 1.2 Mile Swim Begins
8:20 am – .6 Mile Swim Begins
10:30 am – Awards Ceremony at Start Line
* Timeline subject to change depending on the number of teams and participants. The final timeline will be posted at the Team Check-In.
Participant check-in is on Friday, April 14 at the Pensacola Beach Pavilion (Gulfside) from 5p-7p. We will go over the rules and answer questions for all events.
Late registration will also be available if space remains.
Attendance is not mandatory.
The Pensacola Beach Firefighters Challenge opening night will be going on at the same time.
All swimmers will enter the water behind Flounders to the right of the pier.
The finish line is in the same area.
Each course is an out and back.
Sprint (.6 miles): Must be 7 years old or over
Short Swim (1.2 miles): Must be 9 years old or over
Long Swim (2.4 miles): Must be 11 years old or over
Overall Male 1.2 Miles
Overall Female 1.2 Miles
Overall Male 2.4 Miles
Overall Female 2.4 Miles
Top 3 Male & Female Awards in the following categories:
19 & under
20 – 29
30 – 39
40 – 49
50 – 59
60 – 69
70 + up
The event will be wet suit legal if the water temperature is 78 or below. Regardless of wet suits or not, there will not be separate award categories.
#delunasbeachgames