Inductees to the Pensacola Sports Hall of Fame are selected annually by a selection committee. Members of the Hall of Fame are an elite group with continued excellence in sports or who have made outstanding contributions to Pensacola area sports. New Hall of Fame members are inducted and announced each year at the Cox Pensacola Sports Annual Awards Banquet amid great fanfare.
---
Know someone who you believe should be inducted into the Hall of Fame?
Please send their name and contact information, as well as their career achievements, to Amy Marquez at amarquez@pensacolasports.org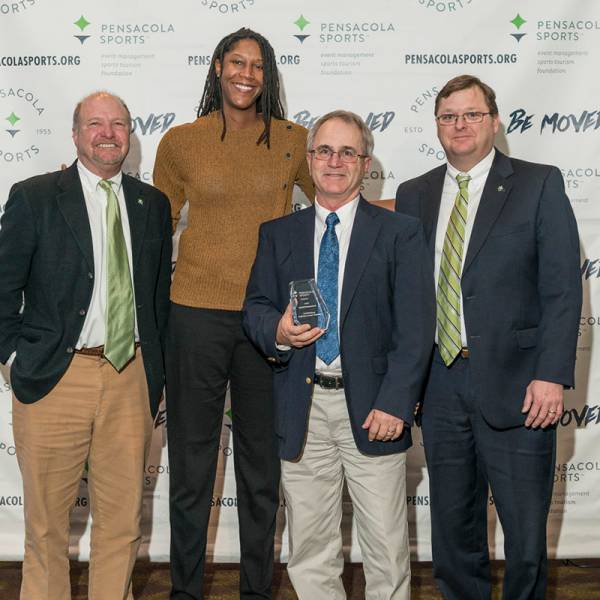 Selection
Candidates should be selected for outstanding contributions to Pensacola area sports in the following categories:
Improvements to the Pensacola Sports organization and program
Superior achievement in athletics
Meritorious service to a particular event, but not necessarily limited to one
Other noteworthy accomplishments in the field of sports worthy of this distinction
2022
Eddie Brown
Dickie Davis
Harry Walker Jr.
Mark Humphreys Sr.
2020
Jackie Gheen
2019
Jerry Pollard
Josh Sitton
Brian Sakey
2018
Fred Robbins & Tia Robbins
2017
Lumon May
Michelle Snow
Glenwood Belich
2016
Chad Quenneville
Richard LaBounty
Charlie Warner
2015
Charles Gheen
Mike Killam
Fred Robbins
Tim Bryant
2014
Tom Fruitticher
Bill Vilona
2013
Dennis Lewallyn
Horace Jones
Robert Freeman
Joe Durant
2012
Adrian Stills
Kevin Saucier
Charlie Hendley
2011
Keith Wells
Talmadge Nunnari
Derrick Brooks
2010
Calvin Washington
Buck Showalter
Bill Hamilton
2009
Jimmy Haynes
John Panyko
Stanley Levin
2008
Don Caton
Bruce Caton
Larry Caton
Terry Kellen
Ben McLeod Jr.
Yancy Spencer
2007
Charles Carlan
Mike DeSorbo
Rob Hermann
Ralph Croker
Randy Pounders
2006
Charlie & Anne Knight
Johnny Walker
2005
Vicki Carson
Gordon Paulus
Jim Spooner
Dan Shugart
2004
Walter Biggs
Travis Fryman
Dottie Whitcomb
2003
Hiram Cook
Bill Hargreaves
Fred Levin
2002
James Currie
Bill Noonan
2001
Donn Peery
2000
Joe Endry
1999
Melissa Miller Schubeck
Tom Dawson
1998
Matt Langley Bell, III
Gregg Litton
Wayne Niedecken, Sr.
Bill Fryman
1997
Richard Berg
Roy Jones, Sr.
1996
Pat Pate
Norm Ross
Jerry Stephens
1995
Roy Jones, Jr.
Jerry Pate
Emmitt Smith, III
1994
Roger MacDonald
1993
Gene Bridges
Pat Weldon
1992
George Wagenheim
Jim Donovan
Vince Whibbs
1991
Tony Wong
John Carr
1990
Hurley Manning
Ray McClean
Gary Buffington
1989
Ralph "Skeeter" Carson
1988
Bud Reynolds
Jack Tuthill
Lou Ross
1987
Dottie Celano
Jim Bland
1986
Dick Merritt, Jr.
Jack Kugelman
Steve Williams
1985
Dwight Thomas
Ronnie & Janis Bond
Bill Bond
Danny Fike
Gordy Glenz
Jimmy Pressley
1984
Fenner McConnell
Duck Ellington
Virginia Holland
Wilmer Mitchell
Don Sharp
1983
Allen Miller
Kay Stephenson
Hoskin Powell
Betty Douglas
1982
Larry Scott
Bill Frye
Ed Ellis
Jody Skelton
Ken Shugart
1981
Bryant Liggett
Jeannette DeLong
Cliff Barnhart
Magruder Tuttle
1980
Carl Madison
Don Priest
William "Red" Vickrey
Raymond Riddles
1979
Benny Russell
Sherman Robinson
1978
Tom Lalor
Ashton J. Hayward, Sr.
1977
Fred Waters
1976
Dr. Nat Arenson
Fred Pancoast
David Hudson
Don Sutton
1975
Russell Scarritt
1974
G. Pratt Martin, Sr.
1973
John H. Whitcomb, M.D.
E.C. Cob, M.D.
1972
Carl "Red" Barnhart
Paul King
Arnold Grey
R.H. Merritt
Ralph Chaudron
1971
Marvin Beck
Ernie Priest
John Dashiell
1970
H.M. (Bill) Brady, Jr.
J.A. (Jim) Scoggins
1969
Bill Barkley
1968
Claydon Attridge
Dr. Lou Gregory
Ron Jourdan
Adm. Austin K. Doyle, USN (Ret)
1967
Downing Gray
Julian O. Olsen, Sr.
Jack Tuthill
C.V. Rainwater
1966
Bill Carr
Floyd Soule
William Soule