SBC Basketball Championship Ticket Packages On Sale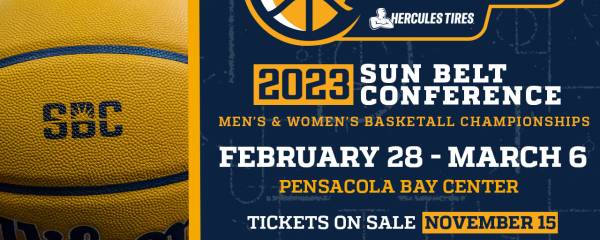 PENSACOLA – Ticket packages for the 2023 Sun Belt Conference Men's and Women's Basketball Championships are on sale now. In partnership with Pensacola Sports and Visit Pensacola, the tournaments will be played Feb. 28-March 6, 2023, at the Pensacola Bay Center in Pensacola, Fla.
"Pensacola is an ideal location for our basketball tournaments and a destination for our fans," said Sun Belt Conference Commissioner Keith Gill. "With every men's and women's basketball team appearing at the Bay Center, we look forward to welcoming each of our fanbases to Pensacola."
All 14 Sun Belt Conference men's and women's teams will compete in the single-elimination tournament with the two tournament champions earning automatic bids to the NCAA Tournament. First-round games will be played on Tuesday, Feb. 28, 2023, and both championship games are scheduled for Monday, March 6, 2023. The 2023 event will be the first appearance for new Sun Belt Conference members James Madison, Marshall, Old Dominion and Southern Miss.
The Sun Belt is coming off a 2021-22 season in which it sent eight teams (six men's, two women's) to the postseason.
Ticket booklets to all sessions at the Bay Center are now available through the Bay Center Box Office or through Ticketmaster, with prices starting at $30 for children and $100 for adults. Additional fees may apply.
Individual game tickets will go on sale through Ticketmaster beginning in January.