Reinhardt University Claims Fifth NAIA Men's Lacrosse Championship Title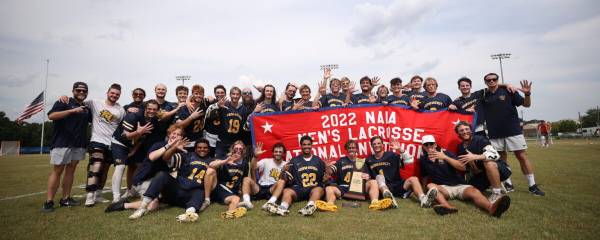 Saturday afternoon at Ashton Brosnaham Park No. 1 Indiana Tech battled against No. 2 Reinhardt in a champion rematch for the 2022 NAIA Men's Lacrosse Championships. But Reinhardt dominated and claimed their fifth championship title.
One minute into the first quarter, Titus Thind scored Reinhardt's first goal. Indiana Tech remained strong in their defense and towards the end of the first quarter, Joe Solin scored one for the team.
Leading into the second quarter, Indiana Tech had eight turnovers allowing for Reinhardt to extend their lead to 5-3 with 9:23 left. Indiana Tech fought hard to tie the score in the last few minutes but Dillan Bousquet and Reinhardt pushed to a 6-5 lead giving them first possession going into the half.
After the third quarter, the score was now 8-5. Reinhardt maintained their electrified momentum going into the final quarter of the game. Indiana Tech trailed by three points but maintained their strong defense with each possession. As the clock continued, Dillan Bousquet, Cameron Cochran, and Brady Hanak each added a goal to Reinhardt's score.
In the fourth quarter, the competition continued. With less than 10 minutes on the clock Hanak connected with Bousquet once again for a Reinhardt goal. After adding two more goals, the final score was 11-5 deeming Reinhardt the champion.
"Indiana Tech is a hard-fought component," says Dilland Bousquet, "I'm proud of my guys and it's amazing to end a career saying that I've won four national championships in my five years." Bousquet was named NAIA Tournament MVP.