Pensacola Sports Hosts More Than 400 Runners at the 2022 Bayou Hills Run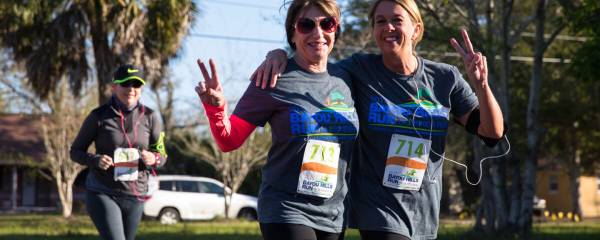 The 2022 Bayou Hills Run took place early Monday morning, September 5th, at Bayview Park. This run is one of Pensacola's oldest running events and the city's Official Pensacola 5K and 10K Championship race. On Labor Day, 415 runners gathered to run the hills.
Each year, the Bayou Hills Run benefits both Pensacola Sports and Creative Learning Academy. Pensacola Sports is a private 501(c)3 not-for-profit agency that specializes in sports participation, event management, and marketing. For 50 years Creative Learning Academy's mission has been to challenge its students to learn through discovery by creating a space where they feel happy and free. Before the start of the race, students from Creative Learning Academy performed the National Anthem.
"This year is very special because it is CLA's 50th anniversary. Back in 1980, when our school was known as Creative Learning Center, the Bayou Hills Run was created and became a major fundraising event for the school," says John Lenhart, Director of Advancement for Creative Learning Academy. "Now organized by Pensacola Sports, this event is still the highlight of every Labor Day weekend.
With a finish time of 19 minutes, Shelby Solomon was the first male to cross the finish line for the 5K race. "I come from New Mexico, so I am used to trail runs; being on the street you have a much faster pace. You do get those slow building hills that can be slightly tiring but it's still nice scenery and perfect weather with the sun starting to rise. Overall, it's a nice event," says Solomon.
Other overall winners were Jessica Teague as the overall 5K female winner, Fritz Stoppelbein as the overall 10K male winner and Stephanie Rathburn as the overall 10K female winner. The overall winners will be invited to a city council meeting to receive a special proclamation naming them "Pensacola City Champion."