Double Bridge Run Registrations Are Going Fast!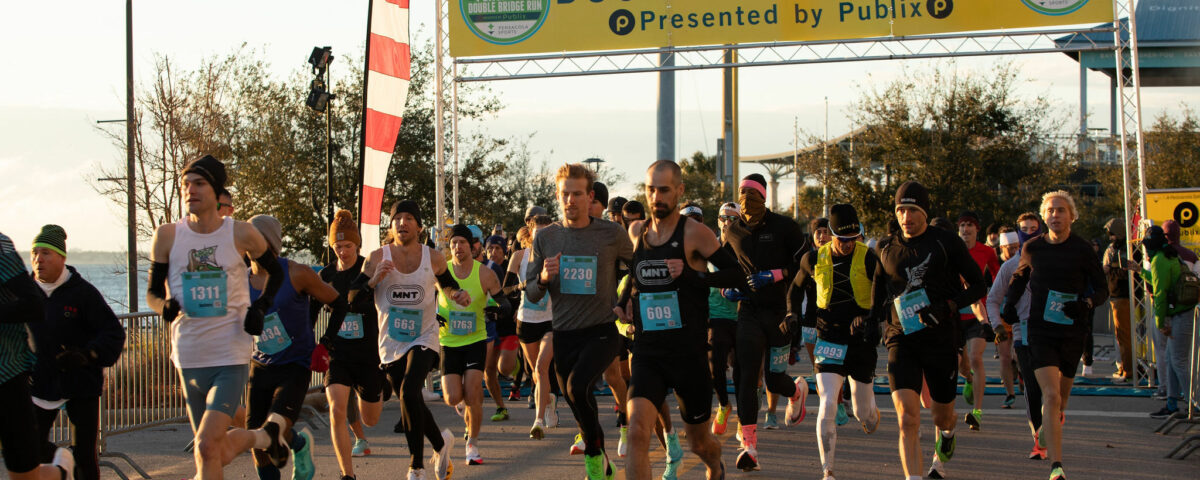 Reserve your spot and beat the Dec. 1 rate increase
Pensacola, FL (November 23, 2022) – The 2022 Pensacola Double Bridge Run presented by Publix is always a fan favorite for its challenging course and spectacular scenery. The 2023 race is limited to 4,000 runners and slots are filling up quickly. Runners are encouraged to secure their spot and beat the price increase that takes place on Thursday, Dec. 1.
Registration is currently $55 for the 15K course and $40 for the 5K course. On December 1, the registration fees increase to $65 for the 15k and $55 for the 5K. Register online at pensacolasports.org
Dubbed "the race with a view," the Pensacola Double Bridge Run is one of the premier 15K races in the country. The course carries runners over two bridges across Pensacola Bay and Santa Rosa Sound. The race begins in Downtown Pensacola and follows a picturesque route through the historic district, along Bayfront Parkway, over the "Three-Mile" bridge, through Gulf Breeze, and finishes at the Pensacola Beach Boardwalk on Pensacola Beach. An after-party with awards, music, food and drink give runners an opportunity to celebrate their accomplishment on beautiful Pensacola Beach.
This event is an ideal winter getaway, so plan to stay an extra day or two to see the sights and experience all Pensacola has to offer. Several Pensacola Beach hotels area offering special rates for runners.
"The Double Bridge run is a legacy event for us," said Pensacola Sports President Ray Palmer. "Not only do we have elite athletes that travel great distances to run this race, it's also wildly popular with the local and regional running community. We're delighted to see this early demand and hope to accommodate everyone who wants to participate." The Pensacola Double Bridge Run racing event takes place Saturday, Feb. 4, 2023 at 7 a.m. from the Community Maritime Park in Downtown Pensacola.