Civilians Get to be Firefighter for a Day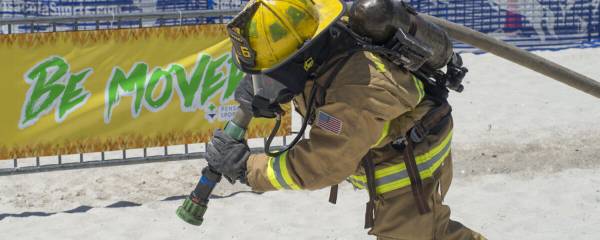 Date: Monday, April 5, 2021
Civilians Get to be Firefighter for a Day at Pensacola Beach Firefighters Challenge April 24, Skills Competition on Pensacola Beach
Pensacola Sports is pleased to host the fifth annual Pensacola Beach Firefighters Challenge on April 23-24 on Pensacola Beach. Not just for firefighters, any civilian, company, or group can enter the "Civilian Challenge" to compete on the same course as the professional firefighters. Grab your friends, work-out buddies, or co-workers and compete in this unique event. No firefighter experience needed.
Individuals can compete or teams of five can register. Companies, families, gyms, friends, etc. are encouraged to register and compete in the event. The winning civilians will take home bragging rights and a great trophy to display.
Partnering with the Escambia County and City of Pensacola Fire Departments, the event will test civilians' and firefighters' skill as they maneuver through a five-station course, all while running in the sand. Two teams/individuals will compete at one time. The five stations on the course include: forced entry, charged hose pull, Kaiser Sled, dummy drag, and a hose hoist.
Civilian individuals and corporate / group teams will take on the same course as the firefighters. All equipment and training will be provided prior to the competition.
Spectators can view the event for free and cheer on their favorite teams and individuals.
###
About Pensacola Sports - Pensacola Sports is one of the oldest sports commissions in the United States, beginning in 1954. Today, Pensacola Sports manages and assists in numerous events a year throughout the Escambia, Santa Rosa, and Okaloosa county areas. Pensacola Sports is dedicated to enhancing the quality of life, health, wellbeing and economic development of Pensacola and surrounding regions through sports and recreation.
###