2019 Subway High School All-Star Basketball Rosters / Game Announced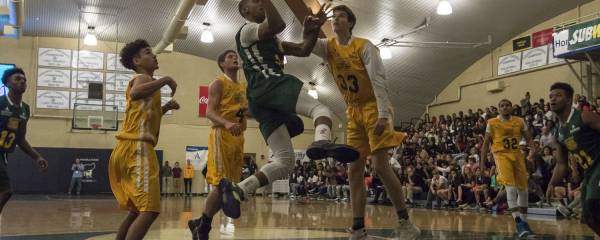 Game: Friday, March 15 at 5 p.m. at Pensacola State College – Hartsell Arena
On Friday, March 15, the best boys and girls senior basketball players from Escambia, Santa Rosa, and Okaloosa Counties will play in the 9th annual Subway High School All-Star Basketball Game at Pensacola State College's Hartsell Arena. Pensacola Sports is pleased to announce this year's coaches and rosters.
The game will girl's game will begin at 5:00, with a Girl's 3-point shootout at halftime. Following the girl's game will be the boy's Slam Dunk Contest, with celebrity judges, and the Boy's All-Star game will follow. All the action takes place at Pensacola State College.
The coaching staff for the west teams, comprised of Escambia County schools and Gulf Breeze Girls, consists of Ieasha Stallworth of West Florida Tech High School for the girls' team and Jonathan Cordier of West Florida Tech High School leading the boys' team.
Okaloosa and Santa Rosa County Schools make up the east team. Steve Williams of Crestview will lead the girl's team while Niceville's Jerome Strutchen will lead the boys.
Girls West Team:
School Player Position
Catholic De'Aveon Primm G
Catholic Breanna Garrett G
Gulf Breeze Kasey Bee G
Gulf Breeze Carson Townsend G
Gulf Breeze Aspen Candelaria F
Gulf Breeze Christina Gonzales F
Northview Aaliyah Tucker F
Pensacola Janya Hall F
Tate Naomi Overholt G
Tate Tia Pryear F
Tate Jade Allen F
Washington Jaila Roberts G
Washington Akiyah Alden G
Washington Zykia Peck G
Washington Jasmine Rutledge F
Washington Kenzie Hughes G
West Fl Tech Khadija Chambless G
West Fl Tech Domanique White F
West Fl Tech Markeria Jackson G
Girls East Team:
School Player Position
Choctaw Ataliya Brown G
FWB Trinity Cooper G
Jay Kennedy Cato G
Milton Aliyah Martin G
Navarre Lauren Kane G
Baker Izzy Cain G
Central Kailey Cutts F
Choctaw Tiara Swain G
Choctaw Magdalena Bubenikova F
Crestview Jill Harris G
Crestview Miranda Brown F
FWB Alexsia Gilliam G
FWB Jamielyn Jarvis C
Laurel Hill Micah McVay G
Niceville Jasmine Griggs G
Pace Bayleigh Morris C
Rocky Bayou Lydia Turner F
Niceville Grace Annichiarico F
Niceville Gabby Schuelke C
Pace Liz Nashed C
Boys West Team:
School Player Position
Cathoilc DJ McKenzie G
Cathoilc Nitrell Bledsoe F
Escambia Mark Rayford G
Escambia Joshua Alexander G
Northview Joseph Johnson G
PCA AJ Ward F
PCA Austin Lewis G
Pensacola Angelo Bascomb G
Pensacola Kareem Williams G
Pensacola Greg Perkins F
Pine Forest Daniel Jordan G
Tate Reggie Campbell G
Tate Yaseen Moftaqir F
Tate Jarquarius Qualls G
Tate Zion Taylor F
Tate Tavares Madison F
Washington David Gould C
West Fl Tech Ronnie Jackson G
West Fl Tech Jy'veion Stallworth G
West Fl Tech Keion Burrell F
Boys East Team:
Team Player Position
Baker Derek Peoples G
Baker Junior McLaughlin G
Choctaw Josh Williams G
Choctaw Diante Smith F
Choctaw Sage McKenna F
FWB Jaden Lovett F
Gulf Breeze Chance Napier F
Jay Blyane Miller G
Laurel Hill Tyus Brooks G
Milton Tristan Harris G
Milton Adrian Walker F
Milton Tobias Daniels F
Navarre David Melaga F
Niceville Nicholas Santos G
Niceville Blayne Johnson F
Pace Preston Price G
Rocky Bayou Adam Mistretta G
Rocky Bayou Parker Athearn G
Rocky Bayou Grady Wright G
Final game rosters are subject to change.
The SUBWAY High school All-Star Series, organized by Pensacola Sports, recognizes senior athletes in volleyball, football, men's and women's soccer, men's and women's basketball, men's baseball, and women's softball from Escambia, Santa Rosa, and Okaloosa County. Other sponsors include Academy Sports and Outdoors, Escambia County Sheriff's Office, US Army Recruitment Office, and Cox.
Tickets to the SUBWAY High School All-Star Game are $8 at the gate. Academy Sports + Outdoors will be having a contest for two lucky fans to win up to $100 in Academy gift cards.
Dates for the remainder of this year's series are:
Boys Baseball and Girls Softball - Thursday, June 6 at the University of West Florida.
For more information on the SUBWAY High School All-Star Series or other Pensacola Sports events, visit the website at www.subwaypsaallstars.com or www.pensacolasports.org.